Mediation is the cheapest and the best ways to resolve the majority of disputes whether civil, economic or family.

WHY MEDIATE?
Because this is the way to settle the absolute majority of disputes. We all know there is nothing better than reaching an agreement. However, sometimes we are unable to settle a dispute amicably and fight for our rights in court, no matter the damage, common sense or costs.
.

WHY CAN'T WE REACH AN AGREEMENT OURSELVES?
Very often our real interests are not properly communicated, the willingness to reconcile is hidden behind the emotions inherent in the dispute, or we are unable to assess the situation objectively. Even if we are experts in our field, we won't be good advisors in our own case.

MEDIATION – HOW DOES IT WORK?
Mediationserves this purpose as it consists in private, secret and informal negotiations of parties to a dispute with the participation of an independent mediator. The mediator does not represent either party but plays the role of an organiser and moderator of negotiations and additionally supports the process of defining real interests and reaching the consensus.

WHAT ARE THE BENEFITS OF SETTLEMENT THROUGH MEDIATION?
The results of mediation are of particular importance. Any settlement reached through mediation, after being approved by court, has the legal power of a settlement agreement reached before a court. Any refusal to perform under an approved settlement agreement will result directly in the issue of a writ of enforcement. In other words – the settlement agreement works like an order.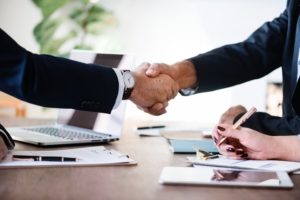 MEDIATION AT KPDI
Our offer includes mediation by our lawyers.
The Law Office Partners, Attorneys Robert Ignatiuk and Anna Grzesznik-Matla are permanent mediators at Gdańsk Regional Court.